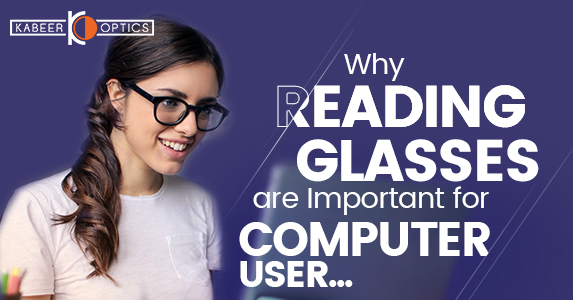 Why glasses are important for computer users
Posted by Suleman Khan Our Blog
It is really important for computer users to take good care of their eyes. People who work with a poor posture by sitting in front of the computer daily can develop vision problems easily. Such problems can be prevented by an improved posture.   
You need to employ the single vision glasses if your vision is impaired already. Here are some benefits that will make you realize why computer reading glasses are important for you and how it can improve your working experience.      
Eye Strain Relief          
One of the key benefits of using reading glasses is that it reduces eyestrain. Consistent eye strain can damage your eyes and it causes problems such as cataracts and eye lesions. Take short breaks consistently while working on the computer.   
Nowadays the presence of smart devices around us in large numbers have increased the hazard of computer vision syndrome. In the given circumstances, prescription eyewear products play a key role to protect the eye from permanent damage. 
Glasses frames for women and men come in different styles and shapes, so every computer user, men or women, should choose glasses according to their face type and skin tone. 
Dry Eyes Prevention 
One of the most common issues that computer operator faces is dry eyes. This issue usually occurs when you keep your eyes constantly at the same place on the computer screen.   
If sitting in front of the computer is your professional demand then reading glasses is essential to get. It provides you better protection and improves your ability to work for long hours on the computer.   
Computer Vision Syndrome Treatment 
Computer vision syndrome (CVS) is a major issue that starts to develop when you work on the computer for a long time period. Having constant pain in eyes is one of the symptoms of CVS. You may also experience sore eyes and suffer from dizziness.  
Author
Comment(0)